How we work
We are focused on teaching best practices for tech companies that enable their people the autonomy to succeed and excel. An engineering practice has three major components. People, Philosophy, Processes. These are the meta structures of how a technology organisation does its work. People enact Philosophy via Processes.
We have a deep interest in these meta structures and the way they interact with each other. Technology organisations often operate with these meta structures at sub optimal levels. Our approach is about understanding each of these meta structures in detail, in particular, the philosophical side, which is often overlooked in the interest of speedy delivery and efficiency. Here are some of the questions we answer and unpack:
People
How do you hire/onboard your people?
Do your people feel they belong?
Are your people performing?
Do they have the right environment?
Philosophy
What is your organisation's vision and mission
What is the organisational culture?
Is the philosophy truly lived and breathed?
Do the organisational values align with the software engineering departments goals?
Processes
Are processes documented?
How are processes defined?
Are processes clearly communicated?
How often are processes revisited for quality and/or re-engineered?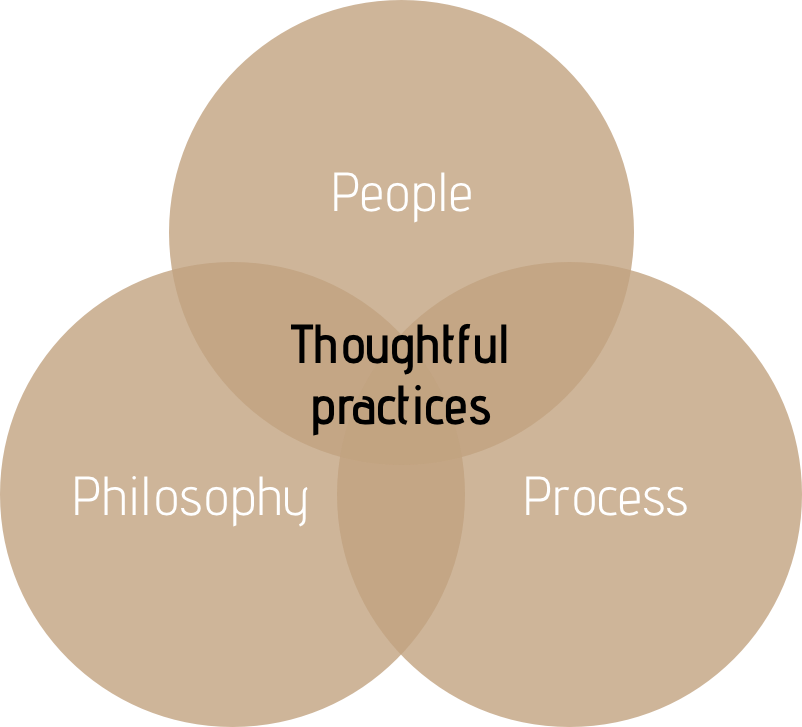 Our approach is to understand the intersection of each of the above in order to define a better way of operating using thoughtful engineering practices that allows an organisation to be incrementally better.
Our methodology
We pursue a rigorous methodology using the stages of Discovery-Define-Develop.
The Discovery stage ensures that we have a complete picture of the problem situation. Discovery involves depth interviews with necessary stakeholders, and the review of associated and relevant organisational documentation.
Typical Discovery activities:
We ask questions to ascertain your software engineering philosophy.
We consider your organisational goals, and understand these by meeting with stakeholders – usually executives and one or two key people.
We examine your current processes by meeting with appropriate team members to cover off all relevant processes and also by reviewing existing process documentation
Following the Discovery stage, we move in to the Define stage detailing the gap between current and aspirational states. We review and synthesise all the information presented to us during discovery, and then consolidate information to build a complete picture.
The Develop stage is where we determine how to bridge the identified gap according to your philosophy, or we help you update your philosophy as needed. In particular, we will deliver advice on what is missing, how important it is, and how to implement it.